The avalanche is coming. I can already hear the roaring booms of it falling, faster and faster as it gains its momentum. The goal: to try and keep ahead of it. Possible? Not so sure.
Our engagement party marks 1 year from the day we're going to be officially married. It's the start of what I'm beginning to call The Avalanche. This is going to begin the whirlwind of the wedding planning, the family meeting, the dress fitting, the venue and vendor meeting…I know when Charlie reads this, his head is going to start spinning. Well, spin baby, spin! It's unavoidable. Scary I know, and I've had my share of break downs and worries. But it's exciting at the same time. :)
Reception venue. Check.
Ceremony venue.  Selected and finalizing.
Photographer. Selected and finalizing.
But this engagement party…I've been slowly planning but sort of putting it off. I keep telling myself eh, it's casual. No big deal. But it actually means a lot to me. Why? For some reason, I feel like beginning that day, it'll all start to become concrete. Not just real, but concrete. Our family and friends will come together for the first time, in one place. It'll be the first time we're going to be putting on a celebration for the wedding. That day, I feel like I'll officially be a bride.
That day next year, I will be married. The wedding will all be over, and my feet will probably be throbbing from walking in heels the day before. But this is exactly why Charlie and I wanted to make this blog. To help us remember how much fun this process was for us (well, probably not so fun too but we won't think about that now). What we were thinking while we were making decisions, who helped us throughout the whole thing, the ideas we implement and don't implement, what it felt like to be a bride and groom..everything.
As  the engagement party draws closer and the RSVP's are beginning to come in, I can't help but feel elated, loved, grateful and EXCITED! Can you sense my excitement?!?! Can you?!? :)
Here's some inspiration for what I've got planned for that day.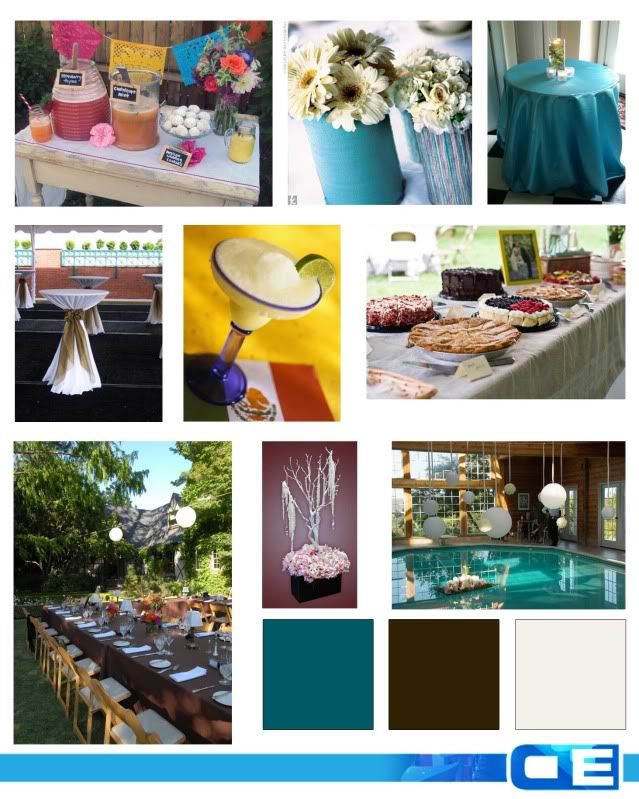 Image sources: www.moderngirlinvitations.com, www.intimateweddings.com, classifieds.weddingbee.com, www.onewed.com, weddings.theknot.com, www.bvweddings.com, www. event-rentals.com, www.eye4art.net, www.bloomsandbranches.com, postcardsandpretties.blogspot.com